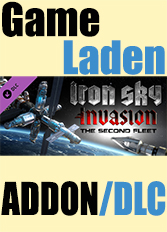 Iron Sky: Invasion - The Second Fleet (PC)
Die Erweiterung "
The Second Fleet
" fügt
Iron Sky: Invasion
ein brandneues Szenario hinzu. Der Spieler übernimmt diesmal nicht nur die Rolle eines Piloten und Befehlsempfängers, er wird selbst zum Weltraumadmiral. Das bekannte Simulationsgeschehen wird geschickt mit Echtzeitstrategieelementen verknüpft und bietet so einen völlig neuen Blick auf die Geschehnisse im All.
Gegen einen nicht endenden Strom gegnerischer Schiffe, von Walküre bis Zeppelin, sammelt sich die Flotte rund um die Erde. In den hektischen Gefechten gilt es nicht nur aktiv am Kampfgeschehen teilzunehmen, sondern auch die verbleibenden Verteidiger geschickt zu positionieren, um die heranrückende Zweite Flotte der Mond-Nazis zu besiegen und die Freiheit der Erde zu sichern.
Die Steuerung der Flotte erfolgt über die bekannte Echtzeitkarte aus dem Hauptspiel und alle aus dem Film "Iron Sky" und dem Hauptspiel bekannten Schiffe unterstehen der totalen Kontrolle des Spielers. Ähnlich wie in einem Tower-Defense-Spiel gilt es, die feindliche Armada am Erreichen unseres Planeten zu hindern. Den Kampf tief in die Reihen der Feinde tragen oder doch lieber als Stratege im Hintergrund zu walten - welcher Weg zum Sieg führt ist völlig offen!
Features:
Packende Weltraumaction gepaart mit Echtzeitstrategie

Volle Kontrolle über die Erdflotte

Neue taktische Möglichkeiten

Unterstützungseinheiten jederzeit während des Kampfes anforderbar

Alle Schiffsmodelle aus dem Spiel und Film