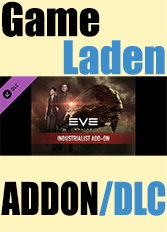 Industrialist Add-On (PC)
Battle rages across the universe, and there is no shortage of demand for a reliable crafter of ships and ammo. The Industrialist Add-On Pack gives you a foot in the door with the ship, skills, minerals, and blueprints to get started as a manufacturer of the machines of war.
Mine asteroid belts
for ore containing valuable minerals.
Stockpile resources
in your personal secure container anchored in space.
Manufacture weaponry
to sell to players on the regional markets.
Build massive starships
that will be used to change the course of history.
The Industrialist Add-On Pack includes:
The Sigil industrial ship

A full set of skillbooks and equipment to kit out and fly your ship

Ship and weaponry blueprints

Starter minerals : 500x Mexallon, 15,000 Pyerite, 15,000 Tritanium

Two Giant Secure Containers for storage in space

Avatar apparel: male "Esquire" and female "Executor" coats (green/gold)