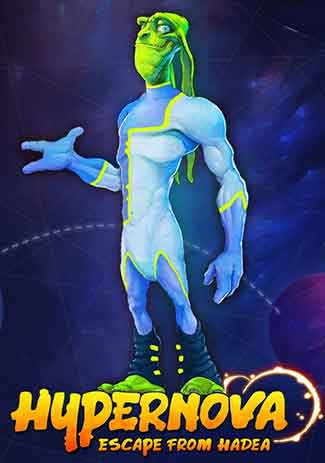 HYPERNOVA: Escape from Hadea (PC)
Verfügbarkeit

Nicht vorrättig
HYPERNOVA: Escape from Hadea

- STEAM Download - 100% Uncut

Jetzt HYPERNOVA: Escape from Hadea kaufen! Sie erhalten von uns den Aktivierungscode Key zur Freischaltung des Spiels direkt per Email zugesendet, schnell & sicher! Mit diesem können Sie sich das Spiel freischalten oder für die weitere Verwendung im Inventar behalten.Nach der Aktivierung können Sie sich das Spiel über Steam kostenlos herunterladen und installieren.

Sie benötigen eine schnelle Internetverbindung für den Download, wir versenden keine DvDs oder CDs.

(siehe Sektion: Download)
---
Über dieses Spiel
Do you like RTS games? How about tower defense, is that your cup of tea? Then make sure to play HYPERNOVA.
In this exciting new mélange of RTS and TD, an alien planetary system is in danger. Its huge star Naidira is becoming increasingly unstable. Realizing that it is only a matter of time before an apocalyptic hypernova explosion destroys their entire planet Hadea, the Scynthians devise a plan to escape their world and rebuild their civilization elsewhere in the galaxy. Their salvation lies in an interstellar teleportation device. Unfortunately, the raw materials required to build and power up such a device have long been depleted on Hadea due to centuries of overpopulation.


The only place where they can gather more of these elements is on Hadea's moon, Haya, an inhospitable world with a toxic corrosive atmosphere and inhabited by violent creatures. In a desperate, last-ditch effort to save their race, the Scynthians send an expedition to Haya to find a way to power the escape technology and save their culture from extinction.

Engage in a role of a Scynthian leader and make the first step towards saving the Scynthians from certain oblivion.
Features:
Explore the unique environment of Haya and discover different landscapes
Search for minerals that can be used to build and power up the Scynthian technology
Build a settlement that will allow the Scynthians to survive the harsh conditions on Haya
Grow the population
Unlock technologies in the tech tree
Build a tower defense system against the nasty Hayan creatures
Build and power up the Stellar Bridge - a teleportation device
Look for ancient relics around the moon
Find hidden creatures ;)
---
Download
Wie erhalte ich die Software? Ganz einfach, über Steam.
Steam ist eine Spielercommunity auf der Sie sich diverse Spiele herunterladen und sich mit anderen Spielern austauschen können. Hier kann man die neuesten Spiele spielen (Beta-Versionen), Freunde suchen, beste Server suchen, automatische Updates erhalten, mit Freunden chatten (auch im Spiel) und vieles mehr...
a) Steam herunterladen: http://store.steampowered.com/about/?l=german
Auf der linken Seite befindet sich ein Button: "Steam Jetzt Installieren". Anklicken und es öffnet sich ein Popup, wo Sie den Download von Steam ausführen können.
b) Steam installieren: Doppelklick auf die heruntergeladene Datei: SteamInstall.msi
Folgen Sie den Anweisungen, während der Installation. Wichtig die Länderauswahl, hier legen Sie fest in welcher Sprache Steam ausgeführt werden soll (einfach das Feld vor der jeweiligen Länderauswahl anklicken). Steam wird installiert...
c) Steam Account einrichten
Nach erfolgter Installation öffnet sich ein Fenster, wo Sie sich einen "Neuen Account erstellen" oder "In Account einloggen" können.
Wenn Sie noch keinen Steam-Account haben, so klicken Sie bitte "Neuen Account erstellen" an.
Lesen Sie den Nutzungsvertrag durch und stimmen dann durch anklicken auf "Ich stimme zu" zu. Die Registrierung des Benutzeraccounts bei Steam ist kostenfrei!
Folgen Sie den weiteren Anleitungen (Erstellung von Accountname und Passwort).
Nach Erstellung Ihres Accountnames, des Passwortes und der Angabe einer gültigen Email verfügen Sie über einen Steam-Account. Das Programm ist als Tray-Icon aktiv und ist in der Regel rechts unten in der Symbol-/Taskleiste zu finden. Um auf Steam zuzugreifen, klicken Sie rechts auf das Icon.
d) Spiel registrieren über Steam
Im geöffneten Steam-Fenster befinden sich oberhalb mehrere Kartenreiter (Menüpunkte), einer hiervon lautet: "Spiele".
Bitte "Meine Spiele" anklicken und es erscheinen unterhalb zwei neue Buttons "Steam-fremdes Spiel hinzufügen" und "Ein Produkt bei Steam aktivieren..."
Bitte halten Sie den CD-Key Ihres Spieles bereit und klicken Sie auf "Ein Produkt bei Steam aktivieren..." und folgen den weiteren Anweisungen.
e) Download des Spiels
Nach erfolgreicher Eingabe des CD-Keys wird das Spiel unterhalb "Spiele", mit dem Status: "installieren" aufgelistet. Klicken Sie auf das Spiel und der Download beginnt, das Spiel wird installiert und startet nach Beendigung automatisch.
---
Systemanforderungen
Windows
Minimum:
Betriebssystem: Windows 7/8/10
Prozessor: Dual-Core Processor with 2.4 GHz
Arbeitsspeicher: 4 GB RAM
Grafik: Nvidia Geforce 460 GTX
DirectX: Version 11
Speicherplatz: 2 GB verfügbarer Speicherplatz
Empfohlen:
Betriebssystem: Windows 7/8/10
Prozessor: Dual or Quad-Core Processor with 3 GHz or better
Arbeitsspeicher: 6 GB RAM
Grafik: Nvidia Geforce 960 GTX
DirectX: Version 11
Speicherplatz: 2 GB verfügbarer Speicherplatz
Mac OS X
Minimum:
Betriebssystem: Mac OS X 10.8
Prozessor: Dual-Core Intel Core i5 with 2,7 GHz or comparable
Arbeitsspeicher: 4 GB RAM
Grafik: Intel Iris Pro 5200 or comparable
Speicherplatz: 2 GB verfügbarer Speicherplatz
Empfohlen:
Betriebssystem: Mac OS X 10.8
Prozessor: Quad-Core Intel Core i5, 3.4 GHz or comparable
Arbeitsspeicher: 6 GB RAM
Grafik: Intel Iris Graphics 6100, NVIDIA GeForce GTX 750M or comparable
Speicherplatz: 2 GB verfügbarer Speicherplatz