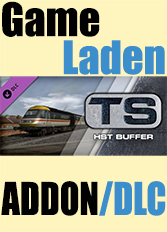 HST Buffer Add-On (PC)
During 1987, eight High Speed Train power cars were converted for use as 'Driving Vehicles' alongside the Class 91 locomotives during trials on the East Coast Main Line. The power cars were fitted with buffers and 'Time Division Multiplex' equipment that allowed them to directly control a Class 91. They were moved over to the ECML where they were used on workings with Class 89 and then Class 91 locomotives from London to Leeds.
Please note, the East Coast Main Line route add-on (available separately) is required to play the scenarios included with this loco add-on. This locomotive is not Quick Drive compatible.
Key Features
New HST Power Cars with Buffers:
Two Intercity Variants

Two 'all over red' variants

'All over black' variant

Additional Rolling Stock Included


Complete 'All Over Red' High Speed Train

Complete 'All Over Black' High Speed Train

Two complete 'Silver & White' High Speed Trains

Custom Mk3 Coach sounds
3 Included Scenario:
Its snow good - Drive the HST Buffers set from York to Darlington. Its snowing so expect surprises along the way.

The Grander Central - Drive the HST Buffers to York from Northallerton.

Free Roam at Darlington - Pick a train by clicking on it, and then explore the route.