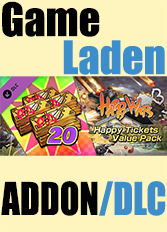 Happy Wars - Happy Tickets - Value Pack A (PC)
Happy Wars - Happy Ticket - Value Pack overview:
Use this great chance to bulk-purchase Happy Tickets at a great price!
Bulk-purchase 20 Happy Tickets.

The Happy Tickets will be added to your inventory the next time you access the Happy Wars title screen following the purchase of this DLC.
Note: This is an one-time-only offer for each player.