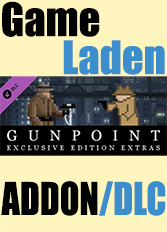 Gunpoint Extras Pack 2 (PC)
The Exclusive Edition Extras include the following cool things:
The Making Of Gunpoint: a 40-minute video feature taking you through how Gunpoint developed from a one-room test game to what you play today. Featuring Gunpoint's designer playing his earliest prototypes for the first time since they were made, to great personal embarrassment and shame.

The Prototype Pack (Windows only): Play snapshots of Gunpoint's development at 9 different stages, including cartoony programmer art, the first conception of the hacking system, many scrapped levels, and overpowered gadgets we later cut. For hopefully obvious reasons, we can't give technical support for these.

Exclusive Music Tracks: Bonus pieces produced specially by Gunpoint's composers for this edition, mixing the game's noir style with electronic influences. Since they're not used as background music in the game, our composers took the chance to be more adventurous with these tracks.

The Secret Beta Access List (betas may be Windows only): adds an option in the game menu to sign up to our Secret Beta Access List. If and when future Suspicious Developments games are developed, we'll sometimes give secret beta versions only to the members of this list.
Note:
the Special Edition Extras (main game soundtrack and developer commentary) are in a separate pack.