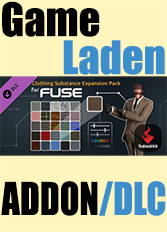 Fuse - Clothing Substances Expansion (PC)
The Clothing Substance Expansion Pack by
Allegorithmic
doubles the smart texture library in Fuse with an additional 25 dynamic substances: complex fabric weaves like Herringbone, Houndstooth, Damask; expanded patterns like floral prints and plaid variations; organics like Zebra/Tiger stripes and reptilian scales; synthetics like Rubber and Plastic, and Brushed metal and a Copper substance that can age dynamically.
These substances can also be used in any software that supports
Substance technology
!
Multiply the amount of customization available for your Fuse clothing with the Clothing Substance Expansion!
Full List:
Plastic

Rubber

Carpet

Copper/Brass

Fabric with Flowers

Fine Scottish Cloth

Bed Sheet

Corduroy

Damask

Herringbone

Houndstooth

Nylon

Scottish Fabric 2

Scottish Fabric 3

Spandex

Tweed

Twill

Velvet

Large Wool Knit

Standard Metal

Painted Metal

Snake Skin 2

Wool Fabric

Old Wool Knit

Zebra