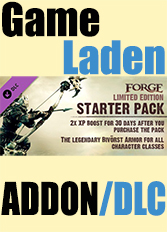 Forge - Limited Edition Starter Pack (PC)
With the Limited Edition Starter Pack, players are given spectacular Bivr?st Armor set for all characters as well as a 30 day 2x XP boost. Strike fear into the hearts of even your most cold blooded foes with this glorious armor!
It is said that there was once a rainbow bridge that connected Mitgarde to Astgarte, the dwelling of the gods. When The Devourer swallowed the gods, that rainbow bridge crumpled, the colors separating and falling towards the earth like brightly colored crumbs. These pieces were discovered by the Vaklyndr at night when they lit up the ground where they lay. Each class has taken a different color and forged it into their armor, wearing what once connected us to the gods for protection and strength in their fight to free their gods.
This pack includes:
2x XP boost for 30 days after you purchase the pack

The legendary Bivr?st Armor for all character classes