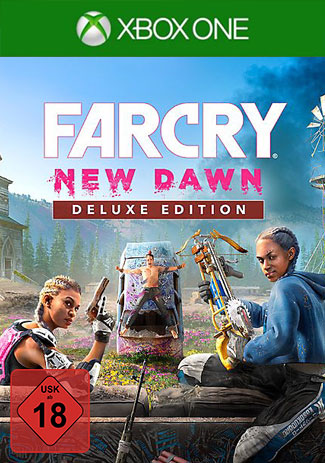 Far Cry New Dawn Deluxe Edition (Xbox One Download Code)
Beschreibung
Upgrade auf die Deluxe-Edition und erhalte das Digital-Deluxe-Paket. Es beinhaltet:
The Hurk Legacy Pack
The Knight Pack
die Skins "Startzündung" RAT4 und "Retro Sci-Fi" M133M
Tauche ein in ein verwandeltes, lebendiges, post-apokalyptisches Hope County, Montana, 17 Jahre nach der Atomkatastrophe.
KÄMPFE IN EINER POST-APOKALYPTISCHEN WELT UMS ÜBERLEBEN
• Greife allein oder mit einem Freund im Coop-Modus in einer unberechenbaren und veränderten Welt zu den Waffen.
STOẞE MIT ZWEI NEUEN FEINDEN ZUSAMMEN
• Rekrutiere eine bunt gemischte Truppe von Helfern und Vierbeinern auf Abruf und bilde Allianzen, damit sie an deiner Seite gegen die unkontrollierbare Führung der Highwaymen kämpfen, die Zwillinge.
BAUE DEINE BASIS UND DIE ÜBERLEBENDEN AUF
• Rekrutiere Spezialisten, um deine Basis zu verbessern, wodurch völlig neue Features freigeschaltet werden – darunter das Herstellen von Waffen, Ausrüstung und mehr.
FÜHRE SCHLACHTEN UM RESSOURCEN IN HOPE COUNTY UND DARÜBER HINAUS
• Verwickle die Highwaymen in Revierkämpfe und gehe auf Expeditionen zu denkwürdigen Schauplätzen in verschiedenen Ecken der USA.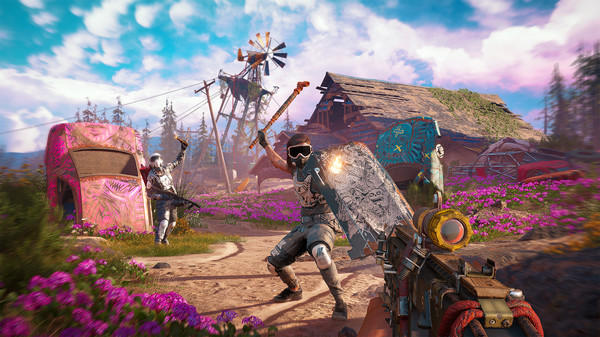 ---
Far Cry New Dawn Deluxe Edition Download und Installation
Jetzt Far Cry New Dawn Deluxe Edition Xbox One Download Code kaufen und in wenigen Minuten den Key zur Aktivierung per Email erhalten - günstig, schnell und sicher!
Nicht zögern und loszocken und noch heute den Far Cry New Dawn Deluxe Edition Xbox One Download Code kaufen. Der Key wird per eMail versendet. Bitte überprüfen Sie auch den Spam- oder Junk-Mail-Ordner.