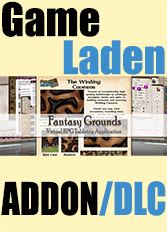 Fantasy Grounds - Maps: Winding Caverns (PC)
Arcknight Games present:
The Winding Caverns
Dozens of high quality battlemaps of twisting caverns, forked passages, caves, cavern openings, cliff faces and more that you can use for caves and tunnels.
Great for any occasion in natural caverns.
Includes 18 original maps (11x17 squares) and 16 'premade' composite maps using the original maps to contruct scenes that are much larger. All maps are perfectly 100 pixel per square images, making it easy to place a Fantasy Grounds grid over top.
Here are some of the scenes you will get:
Monster Den

Bear Cave

Maze

Secret Entrance

Twists

Forks

Cave Mouths

Cliff Face

Expanse
Fantasy Grounds Conversion:
Doug Davison
Requirements:
A Full or Ultimate license of Fantasy Grounds