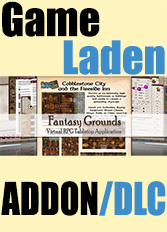 Fantasy Grounds - Maps: Cobblestone City and Inn (PC)
Arcknight Games present:
Cobblestone City and the Fireside Inn!
Dozens of high quality battlemaps of buildings and roads to create a sprawling cityscape.
Great for Ambushes, Buying Equipment, Street Chases, Alleys, Raids on Cities, Roof-top Getaways or the quintessential "you start in a tavern" scene.
Includes 16 original maps (11x17 squares) and 16 'premade' composite maps using the original maps to contruct scenes that are much larger. All maps are perfectly 100 pixel per square images, making it easy to place a Fantasy Grounds grid over top.
Here are some of the scenes you will get:
Long Alley

Fireside Inn

Slums (34x22 squares)

Brave the Slums

Shop the Commercial District

Tavern

Inn

Have a Rooftop Chase

Cross Streets

Thrown out of the tavern into dangerous alleyways
Fantasy Grounds Conversion:
Doug Davison
Requirements:
A Full or Ultimate license of Fantasy Grounds