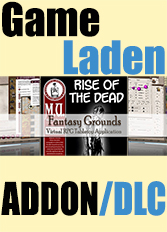 Fantasy Grounds - Call of Cthulhu: Rise of the Dead (PC)
This product comes with a custom extension that allows the pregenerated characters to be included with complete stats. Simply drag the NPC of the pregenerated character to your PC window and the entire stats will populate.

This is a convention scenario with highly detailed characters and handouts intended for a theatrical style presentation in a single long session.
The Arrival

Six days ago the hammer fell. The red comet did not strike the planet, but it was a near miss. Fragments smashed into the earth bringing tidal waves, storms, and fallout. This was a rage of elemental destruction that devastated most of the planet. Millions, perhaps even billions, have died.

The main mass of the comet seems to have entered regular orbit. A red eye rises at night and glares balefully through an occasional rent in the near perpetual cloud cover: a hellish new moon added to the sky. Communications are out. Who knows what is happening out there?

This product is an installable module for use with the Fantasy Ground virtual tabletop. The adventure module has been carefully organized to streamline gameplay and includes, story elements, personalities, items and images. These can be modified within your Fantasy Grounds campaign as needed.

It seems like you will be on your own for some time.

Requirements: Full or Ultimate License of Fantasy Grounds and the Call of Cthulhu ruleset.

Conversion to FG by: Alan Neilson
Author: Andre Kruppa

CALL OF CTHULHU

Horror Roleplaying in the Worlds of H.P. Lovecraft