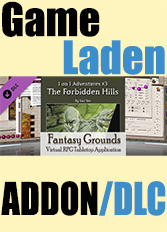 Fantasy Grounds - 3.5E/PFRPG 1 on 1 Adventure #3 The Forbidden Hills
One on One Adventures #3

Starvation looms for the people of the Wolf tribe! The elk have all but disappeared and the risky move of the tribe near the Bear clan territory has proved fruitless. An emergency council of the elders has declared that a single hearty warrior must make the dangerous journey deeper into Bear territory to fi nd a source of food. The council has chosen you for this mission of great importance. It is your task to find out where the elk have gone and bring back food for the winter or at least enact Wolf people retribution against the source of the oncoming famine! Into The Forbidden Hills you must travel, heart full of hope and anger?

1 on 1 Adventures #3: The Forbidden Hills is an adventure designed for 1 GM and 1 player (level 5-7 Barbarian or Ranger) but is adaptable to a standard 4 member party.

This product is an installable module for use with the Fantasy Ground II virtual tabletop. The adventure module has been carefully organized to streamline gameplay and includes, story elements, personalities, items, vehicles (if necessary) and images. These can be modified within your Fantasy Grounds campaign as needed.

Author: Suzi Yee

Fantasy Grounds II Conversion: Doug Davison

Requirements: A Full or Ultimate license of Fantasy Grounds and the included 3.5E (or compatible) ruleset. The built-in PFRPG ruleset will work with slight modifications.