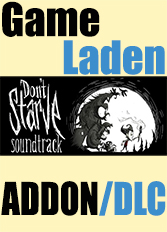 Don't Starve Soundtrack (PC)
The official soundtrack from Don't Starve, the uncompromising wilderness survival game from Klei Entertainment. Containing original instrumental music composed and arranged by Vince de Vera and Jason Garner, this soundtrack DLC contains all of the game music, and a couple extras, in both FLAC and MP3 formats.
Players who purchase this will also get free additional tracks as they are implemented into the game!
Track List:
Don't Starve Theme

Dawn

Work To Be Done

Danger

E.F.S.

D.R. Style

Creepy Forest

Dusk

Ragtime

Cave Work

Hoedown

Epic Ruins

Working the Ruins

Fight For Ruin

The EFS of Winter

Winters Alright For Fighting

Working Through Winter

Spring Into A Fight - Reign of Giants

Spring Cleaning - Reign of Giants

For The Glory Of Spring - Reign of Giants

Summertime and The Fighting Is Easy - Reign of Giants

Summer Jobs - Reign of Giants

A Summer Showdown - Reign of Giants