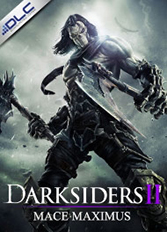 Darksiders 2 DLC - Mace Maximus (PC)
Darksiders II DLC - Mace Maximus - EU - PC - STEAM Download
Sie erwerben hiermit die Vollversion des Spieles "Darksiders II DLC - Mace Maximus"(STEAM digital Download)! Der Versand erfolgt ausschließlich per Email.
Wie erhalte ich die Software? Ganz einfach, über Steam.Voraussetzung: Sie benötigen eine schnelle Internetverbindung für den Download, wir versenden keine DvDs oder CDs. (siehe Sektion: Download)
------------------------------------------------------------------------------------------------------------
Ähnliche Produkte:

------------------------------------------------------------------------------------------------------------
Produktbeschreibung
Prove your greatness with the Mace Maximus. This item is best suited for 5th - 10th level characters. Please note this item is NOT included in Season Pass which ONLY includes the Maker Armor Set, The Abyssal Forge, and The Demon Lord Belial.
Download
Wie erhalte ich die Software? Ganz einfach, über Steam.
Steam ist eine Spielercommunity auf der Sie sich diverse Spiele herunterladen und sich mit anderen Spielern austauschen können. Hier kann man die neuesten Spiele spielen (Beta-Versionen), Freunde suchen, beste Server suchen, automatische Updates erhalten, mit Freunden chatten (auch im Spiel) und vieles mehr...
a) Steam herunterladen: http://store.steampowered.com/about/?l=german
Auf der linken Seite befindet sich ein Button: "Steam Jetzt Installieren". Anklicken und es öffnet sich ein Popup, wo Sie den Download von Steam ausführen können.
b) Steam installieren: Doppelklick auf die heruntergeladene Datei: SteamInstall.msi
Folgen Sie den Anweisungen, während der Installation. Wichtig die Länderauswahl, hier legen Sie fest in welcher Sprache Steam ausgeführt werden soll (einfach das Feld vor der jeweiligen Länderauswahl anklicken). Steam wird installiert...
c) Steam Account einrichten
Nach erfolgter Installation öffnet sich ein Fenster, wo Sie sich einen "Neuen Account erstellen" oder "In Account einloggen" können.
Wenn Sie noch keinen Steam-Account haben, so klicken Sie bitte "Neuen Account erstellen" an.
Lesen Sie den Nutzungsvertrag durch und stimmen dann durch anklicken auf "Ich stimme zu" zu. Die Registrierung des Benutzeraccounts bei Steam ist kostenfrei!
Folgen Sie den weiteren Anleitungen (Erstellung von Accountname und Passwort).
Nach Erstellung Ihres Accountnames, des Passwortes und der Angabe einer gültigen Email verfügen Sie über einen Steam-Account. Das Programm ist als Tray-Icon aktiv und ist in der Regel rechts unten in der Symbol-/Taskleiste zu finden. Um auf Steam zuzugreifen, klicken Sie rechts auf das Icon.
d) Spiel registrieren über Steam
Im geöffneten Steam-Fenster befinden sich oberhalb mehrere Kartenreiter (Menüpunkte), einer hiervon lautet: "Spiele".
Bitte "Meine Spiele" anklicken und es erscheinen unterhalb zwei neue Buttons "Steam-fremdes Spiel hinzufügen" und "Ein Produkt bei Steam aktivieren..."
Bitte halten Sie den CD-Key Ihres Spieles bereit und klicken Sie auf "Ein Produkt bei Steam aktivieren..." und folgen den weiteren Anweisungen.
e) Download des Spiels
Nach erfolgreicher Eingabe des CD-Keys wird das Spiel unterhalb "Spiele", mit dem Status: "installieren" aufgelistet. Klicken Sie auf das Spiel und der Download beginnt, das Spiel wird installiert und startet nach Beendigung automatisch.