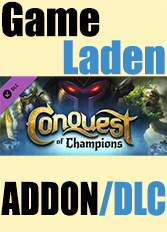 Conquest of Champions: Steam Starter Kit (PC)
Not sure what faction to choose? Start Conquest with a Hero and Starter Deck from all 3 factions! Play all 3 Factions and get a head-start building your own unique deck strategy. This pack can only be purchased once.
This DLC Pack includes:
Gorin Stoneshaper Hero from the Stonehold Faction

Gorin's Construct Deck with 30 Cards

Krak Ironbark Hero from the Briarwood Faction

Krak's Treefolk Deck with 30 Cards

Blight Mistmantle Hero from the Embercult Faction

Blight's Undead Deck with 30 Cards
Total value for this DLC is roughly $15 as each Hero Deck cost $5 in currency.
Note: No purchases are necessary in the game as you can unlock these Heroes by earning currency through playing the game.