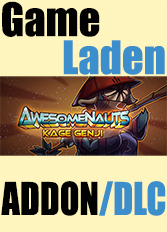 Awesomenauts Kage Genji (PC)
From the land of wind, fire, water, lightning and earth comes Kage Genji. Defending the village of the Hidden Cocoon from all forces that would oppose it, Kage Genji holds the highest religious rank an Entin disciple can attain. Are you a weary traveler looking for spiritual guidance? Then turn your clouded gaze to Kage Genji!


This DLC contains a custom skin for Genji in Awesomenauts, and will automatically unlock the character if you have not already done so.