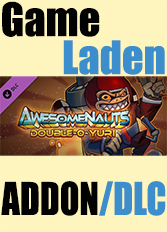 Awesomenauts - Double-O Yuri Skin (PC)
Double-O Yuri's instructions are implicit. License to kill. From elegant clubrooms to exotic islands, Double-O Yuri carries out the Secret Simeon Service's dirty work. An action-filled adventure of intrigue, treachery and romance. In the world of adventure, the highest number is Double-O Yuri!
This DLC contains a custom skin for Yuri in Awesomenauts, and will automatically unlock the character if you have not already done so.