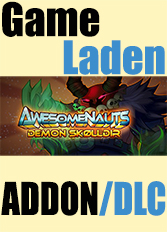 Awesomenauts - Demon Skølldir Skin (PC)
Summoned by a sorcerous ritual, Demon Skølldir has entered our realm! Chaos follows in his wake! Tremble mortals, and despair for Demon Skølldir's fiery fists of doom are upon you!
This DLC contains a custom skin for Skølldir in Awesomenauts, and will automatically unlock the character if you have not already done so.