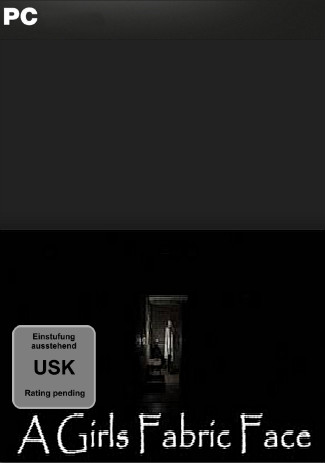 A Girls Fabric Face (PC)
A Girls Fabric Face - Region Free - EU - PC - 100% Uncut
Wichtig: A Girls Fabric Face enthält nur englische Sprache.
Jetzt A Girls Fabric Face kaufen! Sie erhalten von uns den Aktivierungscode Key zur Freischaltung des Spiels direkt per Email zugesendet, schnell und sicher!
Mit dem Key können Sie sich das Spiel über Steam kostenlos herunterladen und installieren.
Sie benötigen eine schnelle Internetverbindung für den Download, wir versenden keine DvDs oder CDs.
(siehe Sektion: Download)
---
A Girls Fabric Face - ÜBER DIESES SPIEL
A brutal murder has taken place in an old home located in SattleWen. Three girls have been brutally murdered in the home, and police call it "The most violent crime to ever happen in this city". Young Anna, aged 16 is intrigued by what has happened, and has decided to investigate the house. Upon arriving at the old abandoned premises, Anna sets up two cameras, and begins to investigate the home to hopefully gather any data that may prove of some importance. Unfortunately, nothing quite seemed right. After learning about the terrifying things that have been going on this whole time, Anna determines that nothing was as it has appeared to be. In the end, a horrible truth is revealed, and an important decision must be made. What is really going on with the case known as "The girls with the fabric face"?
At this point in time, I can finally say with confidence that the game is complete! And quite good at that. After the massive wreck of Minds Eyes, I was able to gather quite a nice amount of input from a lot of players who have given me suggestions, complaints, and support in creating A Girls Fabric Face. After working for quite a long time, I believe I can say with confidence that this game is a "Proper" horror game. In this game, I focused far more on suspense and adventure than anything else (Aside form the overall story); and I believe that everything flowed very well.
Based on many suggestions and complaints, here are the major differences with this game in comparison to Minds Eyes:
Added Achievements (9 in total)
Substantially reduced wandering
Substantially increased player interaction
4 different endings
Greater performance, visuals, and overall gameplay
A very immersive environment that will keep you wondering
A few secrets to the game & a wonderful little Easter egg :)
---
Download
Wie erhalte ich die Software? Ganz einfach, über Steam.
Steam ist eine Spielercommunity auf der Sie sich diverse Spiele herunterladen und sich mit anderen Spielern austauschen können. Hier kann man die neuesten Spiele spielen (Beta-Versionen), Freunde suchen, beste Server suchen, automatische Updates erhalten, mit Freunden chatten (auch im Spiel) und vieles mehr...
a) Steam herunterladen: http://store.steampowered.com/about/?l=german
Auf der linken Seite befindet sich ein Button: "Steam Jetzt Installieren". Anklicken und es öffnet sich ein Popup, wo Sie den Download von Steam ausführen können.
b) Steam installieren: Doppelklick auf die heruntergeladene Datei: SteamInstall.msi
Folgen Sie den Anweisungen, während der Installation. Wichtig die Länderauswahl, hier legen Sie fest in welcher Sprache Steam ausgeführt werden soll (einfach das Feld vor der jeweiligen Länderauswahl anklicken). Steam wird installiert...
c) Steam Account einrichten
Nach erfolgter Installation öffnet sich ein Fenster, wo Sie sich einen "Neuen Account erstellen" oder "In Account einloggen" können.
Wenn Sie noch keinen Steam-Account haben, so klicken Sie bitte "Neuen Account erstellen" an.
Lesen Sie den Nutzungsvertrag durch und stimmen dann durch anklicken auf "Ich stimme zu" zu. Die Registrierung des Benutzeraccounts bei Steam ist kostenfrei!
Folgen Sie den weiteren Anleitungen (Erstellung von Accountname und Passwort).
Nach Erstellung Ihres Accountnames, des Passwortes und der Angabe einer gültigen Email verfügen Sie über einen Steam-Account. Das Programm ist als Tray-Icon aktiv und ist in der Regel rechts unten in der Symbol-/Taskleiste zu finden. Um auf Steam zuzugreifen, klicken Sie rechts auf das Icon.
d) Spiel registrieren über Steam
Im geöffneten Steam-Fenster befinden sich oberhalb mehrere Kartenreiter (Menüpunkte), einer hiervon lautet: "Spiele".
Bitte "Meine Spiele" anklicken und es erscheinen unterhalb zwei neue Buttons "Steam-fremdes Spiel hinzufügen" und "Ein Produkt bei Steam aktivieren..."
Bitte halten Sie den CD-Key Ihres Spieles bereit und klicken Sie auf "Ein Produkt bei Steam aktivieren..." und folgen den weiteren Anweisungen.
e) Download des Spiels
Nach erfolgreicher Eingabe des CD-Keys wird das Spiel unterhalb "Spiele", mit dem Status: "installieren" aufgelistet. Klicken Sie auf das Spiel und der Download beginnt, das Spiel wird installiert und startet nach Beendigung automatisch.
---
SYSTEMANFORDERUNGEN
MINIMUM:
Betriebssystem: Windows 7 or higher
Prozessor: i5 + anything post 2012 will suffice
Arbeitsspeicher: 4 GB RAM
Grafik: Anything of fair performance post 2012 should suffice
DirectX: Version 11
Speicherplatz: 1 GB verfügbarer Speicherplatz