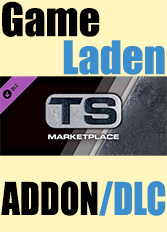 0-4-0 Saddletank Pack 2 (PC)
*NOTE* This pack is available in the in-game store under the Marketplace tab. You are strongly recommended to find the product there and make your purchase from within the game.

R. & W. Hawthorn Leslie and Company, Limited, usually referred to as Hawthorn Leslie, was a shipbuilding and locomotive manufacturer. The company was founded on Tyneside in 1886 and ceased building ships in 1982. The Company was formed by the merger of the shipbuilder A. Leslie and Company in Hebburn with the locomotive works of R. and W. Hawthorn at St.Peter's in Newcastle upon Tyne in 1886.

After the merger the locomotive side continued manufacturing for main line, light and industrial railways, including a large number built for export, usually to the designs of the Crown Agents.

Along with a number of other designs, the Hawthorn Leslie 0-4-0 saddletanks were popular locomotives.

This pack presents two models that have cabs that are open backed, one in black with red lining, and another in blue.